Looking for "Green" Gold
The European Union projects that by 2030 demand for rare earth materials (critical for wind turbines to EVs) will increase by five times but the global supply will only double. The demand for lithium will probably be 60x current consumption in 2050, and the need for cobalt and graphite could be 15x higher. So, naturally, people are starting to dig the land underneath their feet. "Demand is increasing dramatically due to the digital and green transition of our society but we are too often almost entirely dependent on imports, while the geopolitics of supply chains are increasingly unstable," said Thierry Breton, EU's internal market commissioner.
Europe is learning quickly and painfully that trade relations do not stop dictators from weaponizing their exports. Europe has large deposits of rare earths and lithium but also has huge hurdles from environmentalists who are against mining (for various reasons). As a result the European Commission would like to lower regulatory barriers to mining and production of critical materials meant for wind farms, solar panels and electric vehicles. Environmentalists will have to also become sensible - they want a greener and sustainable future but are not willing to yield an inch.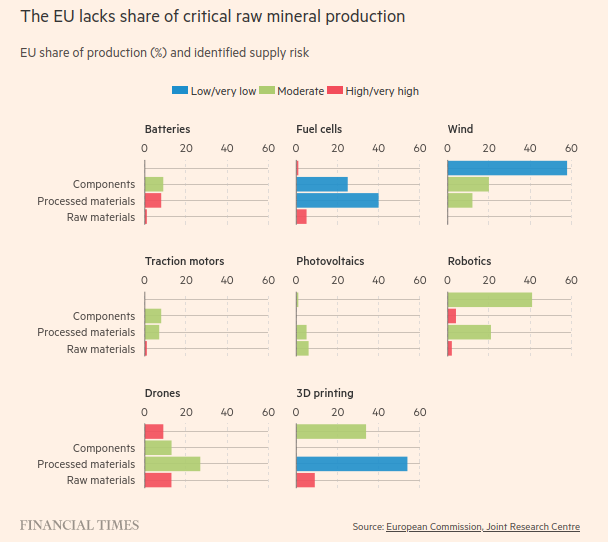 Cotton Prices
The US is the largest producer of cotton and within that, most of the production is centered around Texas. The US cotton prices have surged as a result of the megadrought with prices rising by as much as 21% this month and after adding 4.5% this morning after a USDA report said that output will fall to the lowest in a decade. "I don't think you can put a top on prices right now," said Louis Barbera of VLM Commodities. The implications are wide - of course the importers who make yarn/fabric will pay more. But this comes on top of higher inflation. Second, these climatic events will drive a search for alternative materials beyond synthetic fabrics. This leads to biomaterials. If you like to look at www.polybion.bio and www.boldthreads.com - they are using bacteria to create biomaterials like (bio) leather and biosilk - this is a fascinating space. They use food waste and fungi - a move toward a circular economy. Polybion gets its feedstock for free. In fact, food processors which are located nearby pay the firm to pick up the food waste.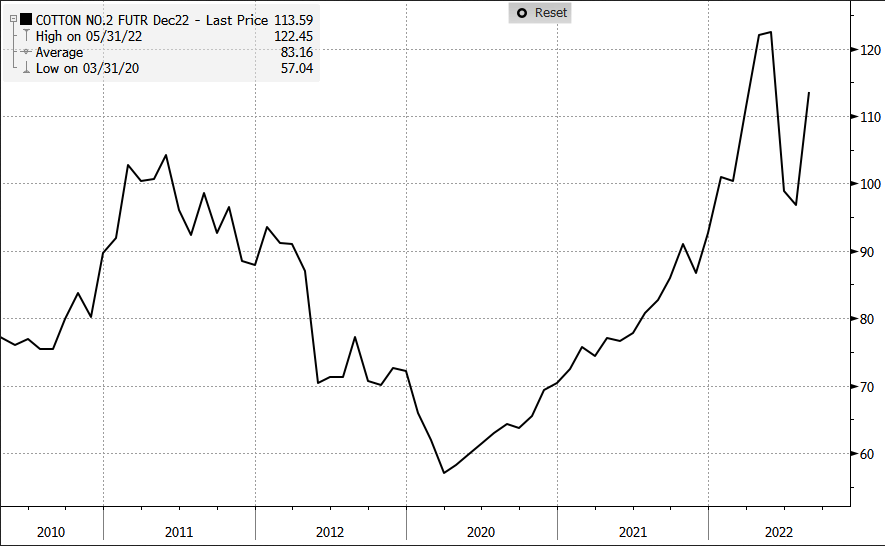 Corporate Corner:
Home Depot (-1%) topped the earnings and comparable sales.

Walmart (+3.4%) topped the financials like HD (above) but also said that its earnings will fall less than previously projected. Walmart also said (this morning) - higher end shoppers are walking its ailes, regular shoppers are downshifting to store brands, and the firm has canceled millions of dollars in orders.

Masimo (+2.3%) is rising b/c Politan Cap (an activist) took a 9% stake in the medical tech firm.

Philips (+2.6%), a Dutch health tech firm is rising after announcing that the CEO will depart and will be replaced by Roy Jakobs, head of the firm's Connected Care unit.

BHP (+3%), reported its highest profit in 11 years. The world's largest miner is benefiting from higher prices for coal and other commodities.

Ally Financial (+5.5%) after 13-F filings by Berkshire revealed that Mr. Buffet has tripled its stake in the firm.

NU Holdings (+13.5%), a digital banking firm, doubled its quarterly rev from a year ago. This firm is also owned by Berkshire.

ThredUp (+3.3%), an online apparel resale platform, posted better than expected revs and a 29% increase in # of buyers.

ZipRecruiter (-6.2%) topped the estimates but said that employers are pulling back from job postings.
Data Check:
Building permits (exp. 1.65 million) fell by 1.3% to 1.67 million although better than expected.

Housing starts (exp. 1.54 million) fell by 9.6% to 1.446 million.

Industrial production

Capacity Utilization
Trading Desk:
Equities: The stock futures are down - Dow -48, S&P -8, Nas -31, and VIX +0.17 (20.12(. The European shares are mixed - FTSE +62bps, DAX +22bps, CAC +4bps, AEX -20bps, and STOXX +18bps. Asian shares ended mixed. HK -1.05%, Nikkei flat, ASX +58bps, Mumbai +64bps and Shanghai +5bps.
Commodities: The WTI is up +26bps, Brent +7bps, gold, -52bps, and copper -6bps.
Currencies: The DXY index +27bps, euro -17.7bps, yen down 96bps, pound is flat, and AUD -33bps. Bitcoin -39bps ($24k).
Bonds: The US10y yields are up 4.2bps (2.833%), gilts +7.6bps (2.094%), and bunds +8.5bps (0.974%)