Funding Climate Adaptation…
The World Meteorological Org., in a latest report said that the last eight years "were on track to be warmest on record" in a "distressed signal" to the leaders who gather in Egypt for COP27. The climate activists have long focused on mitigation strategies to deal with climate change - emission reduction, carbon capture, agriculture tech to create better seeds etc. - while shunning the talk of helping people adapt to higher temperatures and rising seas to name just two.
They say that adaptation would divert attention from things we need to do to reduce emissions. But we know that the impact of rising temperatures is a non-linear (parabolic/convex) phenomenon. The Economist (this week) says that developing countries will need funding to move people from coastal areas, grow crops in arid and salty climates, and incentives to use renewable sources as opposed to coal. The poorer nations have demanded reparations from rich countries (who honestly speaking have been responsible for the mess we are in) to make things better. But that proposal is not going anywhere.
The US instead is working on a plan where 'regional governments or state bodies would earn carbon credits by reducing their power sector's emissions as fossil fuel infrastructure such as coal-fired plants were cut and renewable energy increased' says FT. The credits would be certified by an independent accreditation body. Companies would then be able to buy the credits to offset their own carbon emissions. John Kerry, President Biden's climate czar, thinks that (even though the scheme would be voluntary), "one of the things we're looking at is the possibility of the private sector, in effect, being enticed to the table".
The proposal is similar to one backed by AMZN, BCG and Nestle which was unveiled at COP26 and called Lowering Emissions by Accelerating Forest Finance (Leaf) but will cater to power-sector. These are great ideas but so far there are few details and that is a concern. A person familiar with the matter said, "There's no easier way to get people angry than to throw offsets into the mix."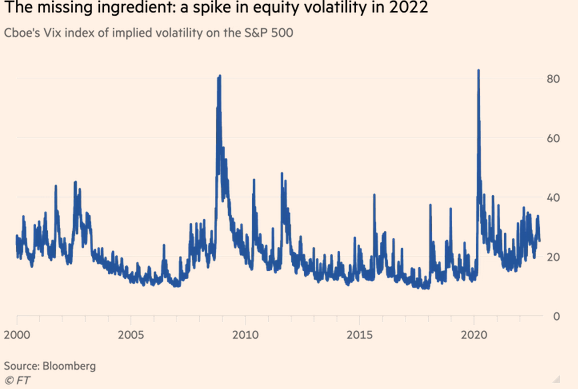 When Hedges Don't Work ..
If you are long stocks (for example) and are concerned about potential sell-off you can buy put options on stocks or futures or calls on VIX. But life in the fast lane of finance is never that simple. In this sell-off, these hedges have not done their job. "The performance of put options this year raised 'fundamental' questions about the point of some strategies. It is like an insurance company that doesn't pay out when you have an accident," said Dylan Grice of Calderwood Capital, a HF advisory firm.
Options are affected by several factors including the speed at which underlying asset (stocks in this case) moves also called volatility. And, long option positions suffer from 'theta' - the decline in the value of options with passage of time (all else being equal). So, if the stocks grind down at low volatility, what you gain from delta you lose on theta.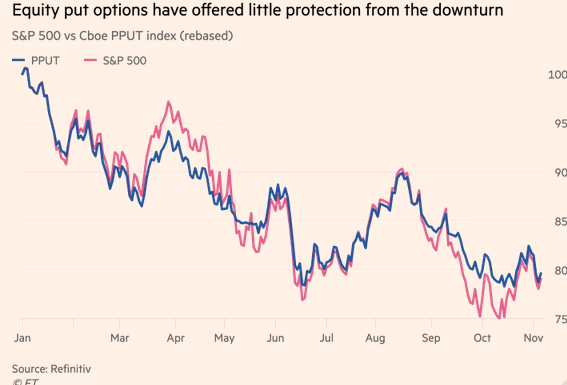 Many ETF and mutual fund managers buycontinuous options - a relatively simple strategy. "You have had to be a very nimble tail hedge manager and a lot of them ,,, are rules-based and formulaic and that's a dangerous place to be," said Peter van Dooijeweert, a hedging specialist at Man Group. "The Vix has been completely useless as a hedge since the initial days of the Ukraine war," managers who use a broader mix of strategies + assets have a better chance of insuring against a downturn. The Eureka hedge tail risk index that tracks a basket of specialist hedge funds is up 13% this year. Saba Capital's tail risk fund uses credit defaults and widening credit spreads and has gained 31%. In finance, you can't force your 'money to work for you' (to quote Seinfeld) diligently.
Corporate Corner:
BioNTech (-3.4%) beat the estimates but both earnings and revs are down 40% YoY

Berkshire (+1.5%) topped the profits and revenues

Meta Platforms (+2.6%) after WSJ reported that Facebook is set to announce large layoffs

Apple (-1.8%) after reports over the w-end that iPhone production is down due to covid-19 restrictions at the Foxconn factory. Bloomberg says that the firm expects to make 3 million fewer phones this year.

Yamana Gold (-2.7%) after Gold Fields declined to raise its offer while rival bids came in from Agnico Eagle and Pan American Silver.

Ouster (+5.1%) will merge with rival lidar sensor maker, Velodyne (+5.6%) in a marriage of equals. Quite romantic!

Ryanair (+6.2%) reported largest-ever profit for the 1H2022

DoorDash (+2.7%) was upgraded to outperform by Oppenheimer

Okta (+3.9%), an identity management software firm, was upgraded to "buy" by Guggenheim
Data Check:
German industrial production rose by 0.6% (exp. -0.8%)
ChinaExports fell by 0.3% unexpectedly (exp. +4.3%) as customers around the world bought less % while the expectations were of an increase of +0.1%
Trading Desk:


Equities: The stock futures are up - Dow +65, S&P +6.75, nas +23, and VIX +0.83 (25.39). In Europe, FTSE -37bps, DAX +64bps, CAC +23 bps, AEX +74bps, and STOXX are flat. In the Asia session, HK +2.69%, Nikkei +1.21%, ASX +60 bps, Mumbai +39bps and Shanghai +23 bps.

Commodities: The WTI -49bps, Brent -41bps, gold +25 bps and copper -2.16%.

Currencies: The DXY index -44bps, euro +37 bps, yen up 25bps, pound +84 bps, and AUD +22 bps. Bitcoin -2.27% ($20.7k).

Bonds: The US10y yield is up 1bp (4.167%), gilts -bp (3.549%), and bunds -1.5bps (2.275%).